Football mascot Bradley Lowery has celebrated his sixth birthday with his best friend Jermain Defoe and more than 250 family and friends.
The terminally ill Sunderland fan, whose fight against neuroblastoma has touched people around the world, gave his idol and friend a huge cuddle at the big bash.
The event with fire-eaters, a funfair, marquee, jugglers and stilt-walkers was held on the cricket pitch in Bradley's village of Blackhall, County Durham.
Defoe and Sunderland keeper Vito Mannone were there to celebrate at the party, delayed two days after he turned six as Bradley was in hospital having treatment.
His mother Gemma said: "I'm absolutely over the moon that we have managed to get this far and celebrate Bradley's sixth birthday with all of our family and friends.
"He is actually a lot better than he has been, he's still obviously poorly and in a lot of pain but he has rested well in bed all day and he was raring to go tonight."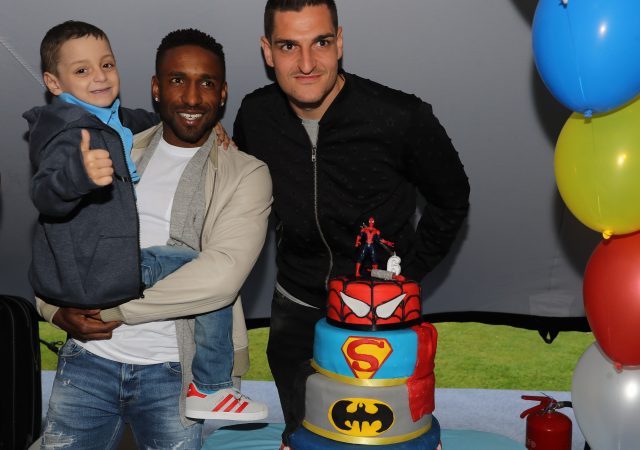 Sunderland forward Jermain Defoe and goalkeeper Vito Mannone (right) with terminally ill football mascot Bradley Lowery, as he celebrates his sixth birthday at Blackhall Cricket Club near Durham ( Owen Humphreys/PA)
Speaking of her son's friendship with the England star, she said: "We are very grateful for Jermain to have taken Bradley in his heart.
"So Jermain's obviously now a friend of the family rather than Bradley's idol – although he is still Bradley's idol – and he makes Bradley happy and he makes Bradley smile, and it's just lovely to see him with him."
Happy 6th birthday Bradley! Have a great day. We admire you
¡Feliz 6º cumpleaños Bradley! Disfruta del día. Te admiramos#HappyBirthdayBrad pic.twitter.com/fDbospa1aZ

— PepTeam (@PepTeam) May 17, 2017
Asked about how the world of football has reacted to Bradley's plight, she said: "It's really overwhelming.
"It's just crazy – we are from a little village, a normal family, and all of a sudden the whole world knows about him.
"It's nice because he's going to leave a legacy, he's going to leave an impression on the world. I'm extremely proud."
At the Pride of the North East Awards on Thursday, Defoe, 34, told the audience: "I will remember what we have for the rest of my life.
Another night to remember with this brave little legend. Love you mate ❤ #PrideoftheNorthEast pic.twitter.com/gx28zxO84Z

— Jermain Defoe (@IAmJermainDefoe) May 19, 2017
"From the moment we met there has been a bond between us which is there for all to see."
Bradley has appeared as Sunderland's mascot several times this year, as well as for Everton and in Defoe's England comeback match at Wembley in which he scored.
A highlight for many Sunderland fans this season has been seeing how Defoe and Bradley have struck up a remarkable friendship, which included the star footballer visiting the boy in hospital and agreeing to hop on to the bed for a cuddle.
Fans of different clubs have sung his name at matches and held banners for him.
An appeal to send him Christmas cards ended with him receiving 315,000 through the post.
On Wednesday, his family posted a video of Bradley in hospital in which he smiled and put his thumbs up, saying: "Thank you for my birthday messages everyone."